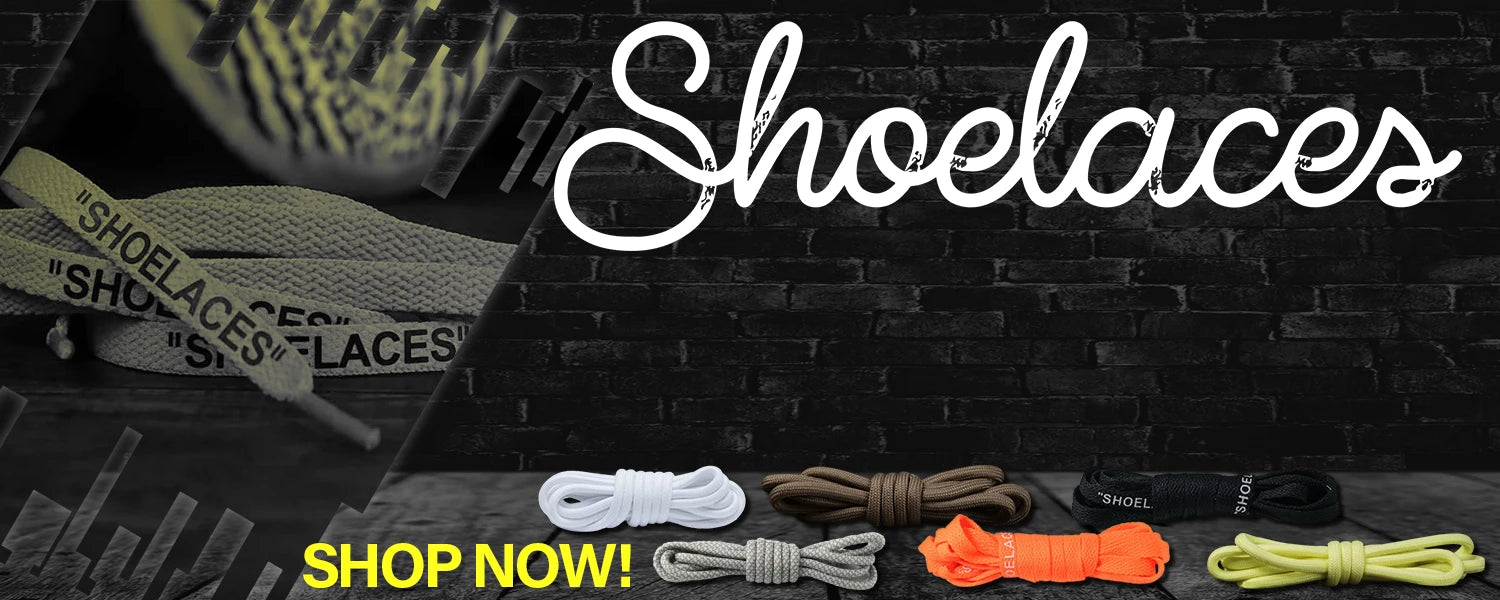 Sneaker Shoelaces | Shoe Laces to Match Sneakers | Laces to match your shoes
Match your favorite pair of sneakers with a unique sneaker shoelace 
Whether you have a pair of Yeezys, Jordans, or Runners that you love wearing, we have the matching shoelace for it so that you can elevate your sneaker game and bring your outfit to new heights. Now you don't have to settle for the default boring stock shoelaces that come in your box of sneakers, you can elevate your style with something that gives your kicks a little bit more pop, like our Reflective Solid Laces. Any of our matching sneaker shoe laces will be sure to give your sneaker game a dope added twist. So start shopping for your new favorite outfit.
What kind of Shoelaces does Capswag.com Carry?
Capswag.com carries a variety of designer shoe matching laces. There are the 3M Reflective laces that look dope and match perfectly with shoes that look textured, the Flat "Shoelaces" printed laces that look dope with "Shoelaces" Printed on the laces, and the rope solid shoelaces that have a simple minimalist look and that can match easily with a variety designer shoes and all the other types of laces that cap swag carries. All types of our Laces come in a variety of colors so that you can have options in what color you want your laces to be or to match designer sneakers perfectly. Start shopping for your designer shoe matching laces and start adding to your custom designer sneaker collection 
Can these Matching Shoe Laces match my Yeezy?
Yes, you can replace your pair of stock Yeezy laces with some stylish Yeezy replacement laces that'll match your favorite pair of Yeezys seamlessly. The Yeezy matching laces found in this collection are designed similarly to the stock Yeezy laces that come with the Yeezys inbox so they'll make a perfect pair of Yeezy replacement shoelaces whether you lost your pair of laces, they got dirty, or you're looking for a more interesting pair of laces than the standard boring stock laces. So start customizing your designer Yeezies with our 3M Reflective Laces or Text Print Flat Laces and grab your new favorite outfit.
What kind of colors do Capswag Sneaker Shoelaces have?
The custom shoelaces from Capswag come in a variety of colors from Neon Yellow to Black. All of these custom Shoe laces match Designer Shoes so that you can elevate your outfits to new heights. Like how the Reflective Gray Solid Laces match the Static Yeezy 350 V2 and look amazing because of the texture on both the Shoe and Shoelace or the Black Solid Rope Laces that give off a minimalist feel and can pair perfectly with any pair of designer black shoes or white designer shoes. So if you need some new dope designer Shoelaces to match your sneakers then get our Matching Sneaker Shoe laces today and start elevating your designer sneaker collection today.