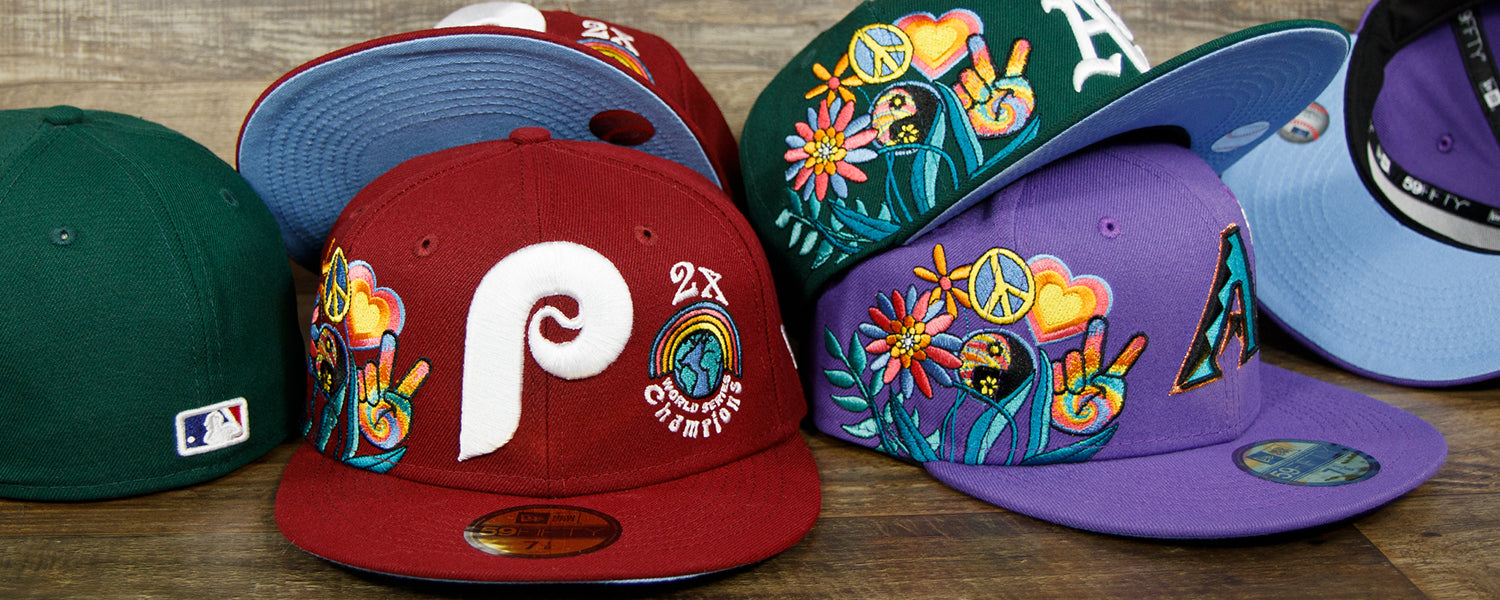 New Era "Groovy" Pack 59Fifty Fitted Cap | Custom New Era Side Patch
What is the Groovy Pack?
The New Era Groovy Pack is a custom fitted cap from New Era inspired by the hippie movement of the 60s. Featuring a "groovy" collage on the wearer's front right the bright colors and hippie symbolism makes this custom 59Fifty side patch fitted collection a unique eye-catching addition to your outfit if you're somebody who isn't afraid of a little color. Adding to the groovy-theme and hippie 60's symbolism, the 59Fifty fitted caps in this collection feature the World Series victory patches embroidered featuring font, colors, and more symbolism tying into the 60's vibe. For example, on the Philadelphia Phillies Groovy Side Patch fitted there's a 2X World Champions patch on the wearer's front left featuring a 60's font and rainbows.
What is the UV color on this custom 59Fifty pack?
The under visor of the Groovy 59Fifty Side Patch Fitted Cap is a sky blue color, making thie side patch exclusive fitted cap stand out even more. The light blue color of the UV ties into the colorful side patches found on the crown of the fitted cap pack making it extremely well put together.
Are these side patch fitteds?
While technically, a side patch fitted is any fitted that has an All Star Game patch or World Series Patch embroidered on either the wearer's left or wearer's right panel of a 59Fifty fitted cap, these hats are considered side patch fitteds because there are embroidered elements stretching into the side panels of the caps.