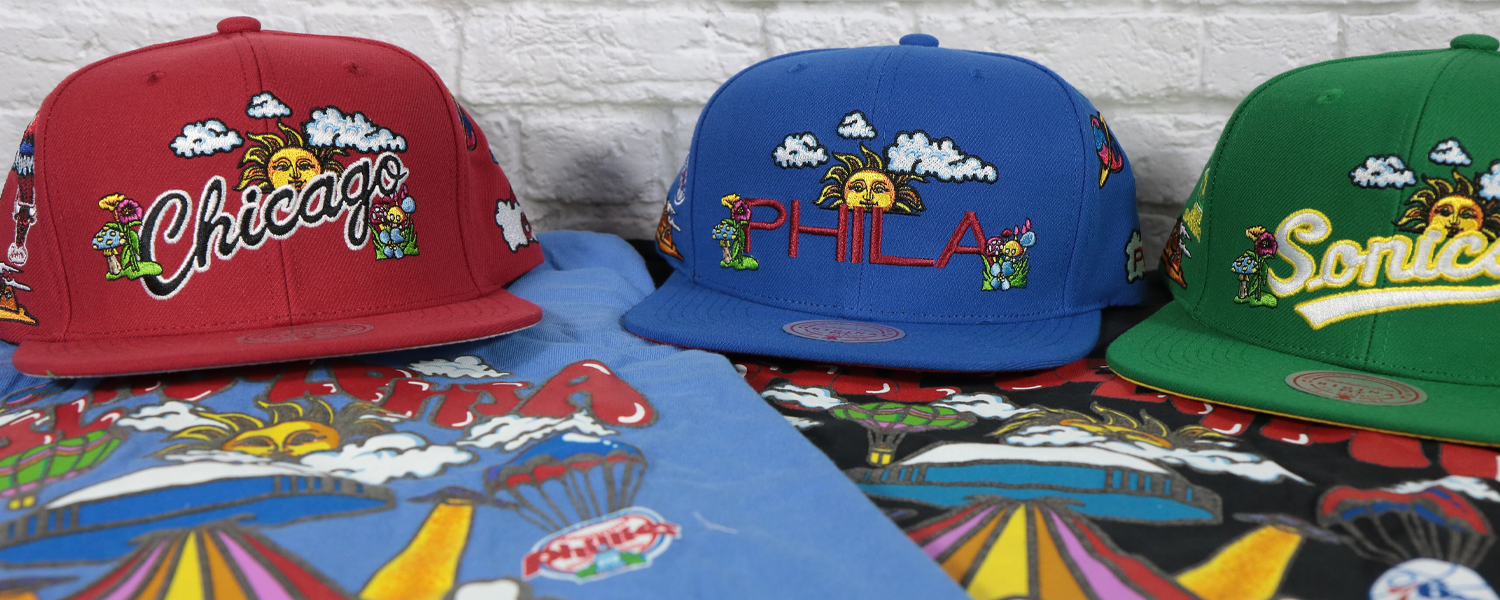 Mitchell and Ness Psychedelic Hats
What is the Mitchell and Ness Psychedelic Hat Collection?

Introducing the mesmerizing Mitchell and Ness Psychedelic Hat Collection, where fashion meets mind-bending artistry! Prepare to embark on a journey into a world of vibrant colors, trippy patterns, and out-of-this-world designs. These hats are not just accessories; they are portals to an alternate reality where style knows no bounds.
Dare to stand out from the crowd? Look no further! The Mitchell and Ness Psychedelic Hat Collection is here to elevate your fashion game to a whole new level. These hats are more than mere headgear; they are statements of bold individuality. Whether you're attending a music festival, hitting the streets with friends, or simply want to add a touch of flair to your everyday outfits, these hats will instantly transform you into a trendsetting trailblazer.
Prepare to have your senses awakened as you explore an explosion of colors and shapes like never before. The Mitchell and Ness design team has collaborated with visionary artists to create a collection that is truly psychedelic. Each hat is a carefully crafted masterpiece, blending psychedelic elements with iconic Mitchell and Ness craftsmanship. Get ready to turn heads and ignite conversations wherever you go!
Unleash your inner wild child with the trippy patterns and kaleidoscopic motifs that define this collection. From hypnotic swirls to mind-bending geometric shapes, these hats are an artistic feast for the eyes. Immerse yourself in a sea of vibrant hues and let the psychedelic vibes transport you to a realm of pure imagination.
But it's not just about looks. Mitchell and Ness have always been synonymous with quality, and the Psychedelic Hat Collection is no exception. Each hat is expertly constructed using premium materials, ensuring durability and comfort. The attention to detail is second to none, with carefully embroidered logos and intricate stitching that showcase the brand's commitment to excellence.
Whether you're an avid hat collector, a fashion-forward trendsetter, or simply someone who appreciates the beauty of art and design, the Mitchell and Ness Psychedelic Hat Collection is a must-have addition to your wardrobe. Step into a world where the ordinary becomes extraordinary, and let your style transcend the boundaries of imagination.
Don't miss out on this opportunity to own a piece of fashion history. The Mitchell and Ness Psychedelic Hat Collection is waiting to whisk you away on a sartorial adventure like no other. Get ready to embrace your inner psychedelic pioneer and make a statement that won't be forgotten. Get your hands on these mesmerizing hats today!
Which teams are included in this collection
Prepare to represent your favorite teams with a psychedelic twist! The Mitchell and Ness Psychedelic Hat Collection proudly features the iconic logos and colors of some of the most beloved sports teams. Among the teams included in this mind-bending collection are the Philadelphia 76ers, the Chicago Bulls, and the Seattle Supersonics.
Support the Philadelphia 76ers in a whole new dimension with these eye-catching hats. Whether you're cheering courtside or adding a splash of psychedelic flair to your everyday outfits, these hats will let everyone know where your loyalty lies. Stand out from the crowd and showcase your love for the Sixers like never before.
If the Chicago Bulls hold a special place in your heart, get ready to elevate your fandom to a whole new level with the Mitchell and Ness Psychedelic Hat Collection. These hats combine the iconic Bull logo with mesmerizing psychedelic patterns, creating a fusion of style and team spirit that is truly unparalleled. Let your love for the Bulls shine through in a vibrant and unique way.
For fans of the legendary Seattle Supersonics, the Psychedelic Hat Collection offers a chance to pay homage to this storied franchise in a truly mesmerizing fashion. Relive the glory days of the Supersonics with hats that blend their iconic logo with mind-bending psychedelic designs. These hats are a testament to the team's rich history and your unwavering support.