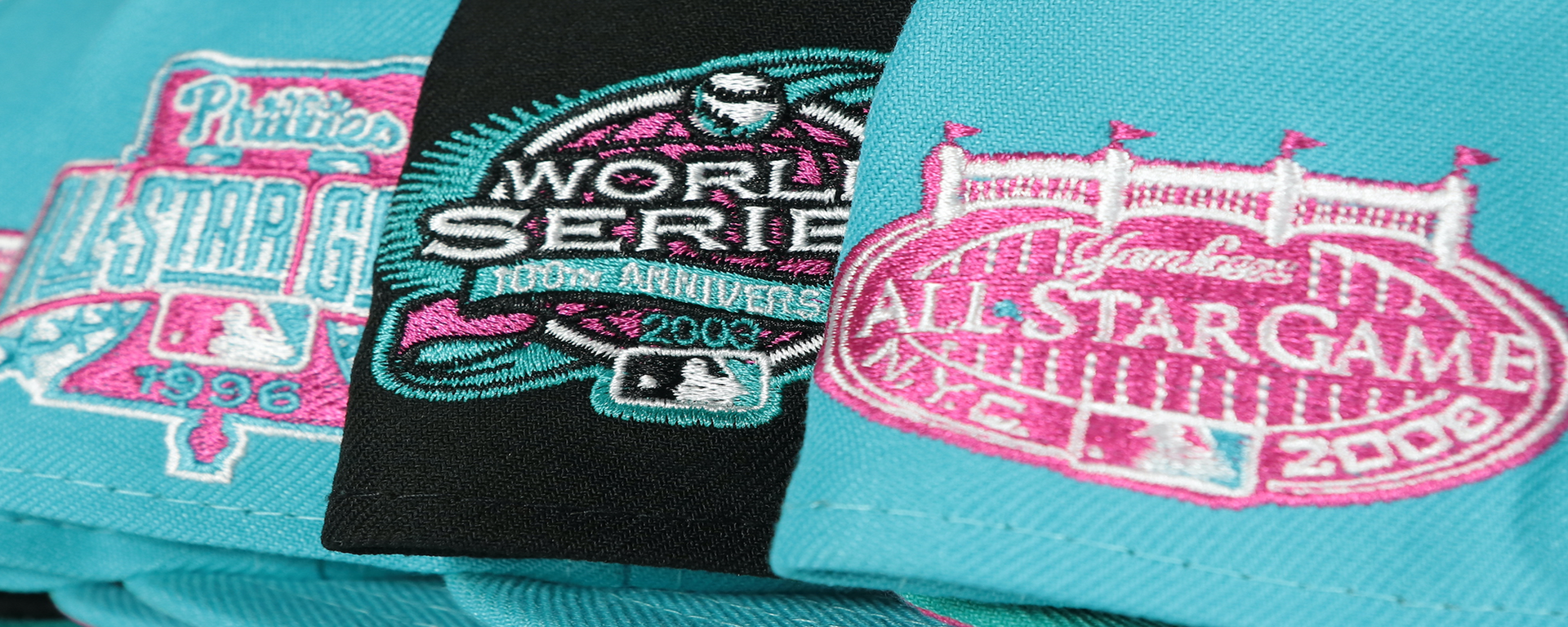 Cooperstown Side Patch Exclusive Fitted Miami Pack Caps | Cooperstown 59Fifty Miami Pack Side Patch Fitted Cap | Exclusive 5950 Patch Fitted Caps for the Miami Pack |
Start chilling out on the beaches of Miami with the Capswag exclusive Miami Custom Fitted Cap with retro side patches!
Start looking fresh with your next trip to the beach with the Miami Fitted Custom 59Fifty Caps. Based on the beaches of Miami our Custom 59Fifty Caps with Cooperstown Side Patches mimic the look of the sea with the Vice Blue and Magenta Colorway which looks dope. Our Florida Marlins Fitted Miami Cap features a black and teal colorway with a magenta bottom to give a deep-sea look. Both of our Vice Blue 5950 Fitted Caps feature their team's respective all star game side patch while the Miami Florida Marlins Black Fitted Cap has the 2003 World Series Side Patch. If that interests you then go and grab one of our exclusive custom Miami Fitted Caps before they run out!
What features do the Miami Pack Exclusive Patch Fitted Cap have?
The Miami Pack exclusive Patch Fitted Caps have a variety of features that makes these caps incredibly unique. Our 59Fifty Miami Fitted Caps with Side Patches come with the Cooperstown MLB Batterman logo withed raised edges and the caps unique colorway. All of our Miami Exclusive 59Fifty Caps come with side patches from important games. For the Vice Blue Patch Fitted Caps would be the All Star Games Side Patches and the Florida Marlins 100th Anniversary World Series 2003 Side Patch. The Florida Marlins Side Patch Fitted Cap comes with the 1990s Florida Marlins with reflective silver forge fins.
What teams are in the 5950 Miami Custom Fitted Caps?
We have three teams for the 5950 Miami Custom Fitted Caps and while they are low in number these custom 5950s like fresh. The teams featured in the Miami 59Fifty Drop are the Vice Blue Philadelphia Phillies Cooperstown Fitted Cap with the 1996 All Star Game Liberty Bells Side Patch, the New York Yankees Miami MLB 2008 All Star Game Yankees Stadium Side Patch Vice Blue Cap, and the Florida Marlins MBL Miami Pack 2003 World Series 100th Anniversary Side Patch. All of our Miami Customs 59Fifty Patch Fitted Caps come with a magenta under visor which makes every Miami 59Fifty Cap stand out. If you want one of our Exclusive Custom Fitted Miami Caps then don't wait as these caps will sell out and there is no guarantee that they will be returning.